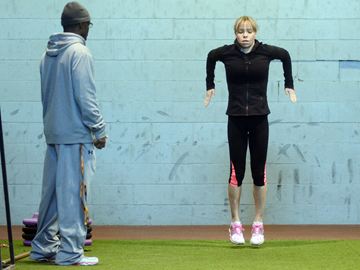 Karen Cockburn hopes to bow out at Pan Am Games
Michael Hayakawa
Mar 06, 2014
Karen Cockburn has bounced, sommersaulted and vaulted her way on a trampoline in countless international competitions around the world.
To show for it, the 33-year-old Whitchurch Stouffville resident has won an individual world championship in 2003, claimed two silver Olympic medals in 2004 and 2008 and one bronze in 2000.
But before retiring from soaring heights on the world stage, Cockburn revealed there's one void missing from her storied career — to compete in a major event in front of a home crowd.
Cockburn hopes that opportunity comes next year when the Pan American Games are staged in the GTA.
A first-time mom last fall, Cockburn has been diligently preparing to regain the form that made her a force on the women's circuit.
The veteran Skyriders Club performer could end her career at home and atone for a disappointment she experienced at the 2011 Pan American Games in Guadalajara, Mexico.
"I was born and raised in Toronto, so to be able to compete at such an event at home in front of family and friends would be a great experience," she said. "I won a gold medal at the 2007 Pan Am Games in Rio de Janeiro, where trampoline made its Pan Am debut.
"At the 2011 Pan Am Games in Guadalajara I won the qualification round, but came down with food poisoning or a stomach bug and was unable to compete in the finals and defend my Pan Am title. It would be nice to have another shot at the title."
She's only been on a trampoline for the last two weeks while working with new trainer Ian Warner, whose sons Justyn and Ian were members of Canada's track and field team at the 2010 Summer Olympics.
But she feels she's already made considerable progress with an emphasis on improving her strength. In fact, she has already exceeded her initial expectations.
This despite experiencing a minor complication during her pregnancy when she developed diastasis recti, a condition where her abdominal muscles split.
To overcome this, Cockburn has been working with her athletic therapist to strengthen her abdominal muscles and has been temporarily wearing a brace to support that affected area when jumping on the trampoline.
"I currently weigh less then my pre-pregnancy weight," she said. "My focus in the gym is on regaining my lean muscle mass and improving my power. I started back on the trampoline two weeks ago and it feels great to be in the air again. I am trying to take it slow, as my mind wants to do everything I did before, but my body needs time to adapt to jumping on the trampoline again."
It's a bit like riding a bike.
"Some maneuvers just come back to you and it feels like you were doing them yesterday," she said.
"But it takes a long time to get your strength, height, form, balance and flexibility back. As these attributes slowly come back over the coming months of work, so will the higher level manoeuvers on the trampoline."
Adding to the challenge facing Cockburn is becoming a first-time parent.
To find a balance in being a parent and athlete requires plenty of planning and time management, she said.
"I have a lot of support from my husband (Mathieu Turgeon, former Canadian Olympic trampolinist), parents and in-laws. There is always someone willing to babysit when I need to get to the gym.
"I currently meet my trainer three times a week for a two-hour session.  I try to keep my workouts quick and efficient so that I am not away from my daughter for too long.  In the evenings, after I put my daughter to sleep and my husband gets home from work, I head out to the trampoline gym to train. This has been working well as my daughter does not know that I have left. It is very tiring to train late at night after an early morning and a long day."
Cockburn has a timetable.
"The Pan Am Games qualification are in August in Mississauga," she said. "That will determine how many spots Canada will qualify for the Games up to a maximum of two. The spots that Canada earns will then be awarded after a series of qualifying competitions that will take place over the 2014-2015 competition season."
Some of those competitions include: the Canadian championships in Ottawa in late May along with the Canada Cup in Newmarket in July, the Pan Am Championships in Mississauga in August, and World Championships in Daytona Beach, Fla. in November.
While there are also World Cup events taking place in Europe, Cockburn intends to forego those to spend time with her daughter.
"I feel like I am on track, but you always have to be careful of potential setbacks.  I have a plan, but I have to be flexible with that plan."